This new group exhibition brings together works by some forty artists and several generations. Continuing the exploration of the construction of the Subject, pursued in our temporary exhibitions since 2005, 'True Stories' follows on from the group exhibition 'Lignes de vies – une exposition de légendes' (2019) which explored the passageways between art and autobiography, between reality and fiction. This new instalment pursues the idea that everything is fiction, that the real is a set of superpositions, layer on layer, interwoven with sundry stories, but this time focusing less on the effects of the toing and froing between art and the world and proposing, instead, various parallel approaches to realities. The artists in this exhibition have in common the use of fictional devices, strategies and postures which, nevertheless, are grounded in an attempt to describe the world, tinged, among other things, with speculative or even documentary narration. Inventing, narrating, imagining. They peel back the layers of appearance to uncover other narratives, to bring forth other stories.
Telling (ourselves) stories: this immemorial need for narrative, to understand, articulate and reflect on the world, is particularly resonant in the age, among other things, of post-truth and the avatars that teem in the metaverse. Social media is filled with what are symptomatically called reels and stories. Decidedly, stories are everywhere. 'Histoires vraies'. The title is paradoxical, to say the least. Where is truth in all this? Where is veracity? Should we believe what artists tell us? Does reality exist outside its formulation?
Fiction for putting in crisis, for questioning, for deconstructing, for making apparent; fiction for averting, for removing; fiction for repairing, for other ways of telling, for helping, for accompanying, for transmit-ting; but also for going deep into appearances, for questioning the facts, their veracity, the modes of narration themselves; fiction for proposing alternatives to the 'grand narratives'; but also, fiction for the simple and joyful pleasure of making things up. To paraphrase Sarah Ilher-Meyer in one of the catalogue entries, 'Histoires vraies' offers a constellation of 'minimalist tragi-comedies and micro-narratives with multiple levels of interpretation. Each viewer is invited to compose their own narrative, between nightmare and dream.'
The exhibition will be extended by a programme of films and performances.
With works by Aletheia (Hugo Dumont, Anthony Vernerey), Alexis Foiny, Alice Brygo, Anaïs-Tohé Commaret, Anne Brégeaut, Anne-James Chaton, Aurélie Ferruel and Florentine Guédon, Aurélien Mauplot, 1.0.3 collective, Esther Ferrer, Étienne Charry, Farès Hadj-Sadok, Hippolyte Hentgen, Jean-Charles de Quillacq, Jordan Roger , Katia Kameli, Kenny Dunkan, Kent Monkman, Laura Bottereau & Marine Fiquet, Marie Losier, Mary Sibande, Mehryl Levisse, Olivier Nottellet, Pejvak, Regine Kolle, Romain Kronenberg, Sam Moore, Sebastien Loghman, Suzanne Husky, SMITH, Sylvie Ruaulx, Véronique Hubert, Vincent Volkart, Virginie Barré, Yan Tomaszewski, Youri Johnson.
French site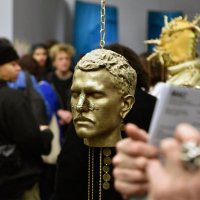 Expositions
— Derniers jours - Du 4 février au 17 septembre 2023
Cette nouvelle exposition collective réunit les œuvres d'une quarantaine d'artistes de différentes générations. Poursuivant les recherches autour de la construction du Sujet, « Histoires vraies » prolonge cette idée que tout est fiction, le réel étant superposition, feuilletage tissé d'histoires diverses et variées, en proposant des approches parallèles des réalités.